Free pattern alert!
All email subscribers to the inspirational
See Kate Sew
blog can get their hands on the cutest of apron patterns in PDF format (a.k.a my new fave)! Not only do you get the free pattern but you also get the chance to join in the "Ruffled Apron SEW-A-LONG". Sounds like fun right?
I think I'm getting the hang of this sewing lark, I'm loving it.....
I used a selection of fabrics from the IKEA range. Whilst sourcing colours, I fell head over heels for the splash of lime which later became "the ruffle"!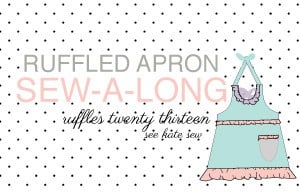 I wanted something girly, something that said "High Tea" yet at the same time had a subtle feel. So I went with the mix of blue's/white's with the feminine ruffle.
Once downloaded, I printed the pattern with instructions and got snipping/taping it together. It was a great project to sew and I was able to finish it in a few hours.
The skirt is so pretty, thanks to the ruffled waist you can quite literally do the whole
curtsy thing
(oh, yes I did)!
The straps tie fully around the neck and waist, I left the waist loose so you could see my small gingham fabric. The large (front skirt) and small (straps) gingham fabrics worked a treat together, as they were slightly different in tone.
The front pocket is lovely and deep......."hello Mr Wooden Spoon...". The ruffles, oh the ruffles -I think I may be an addict. I'm already thinking what I can ruffle next!
With the waist straps you have the option to tie them together at the front which looks cute too.
Now.............who's for "High Tea"?
Thanks
Kate
for the awesome pattern.